Skip to end of metadata
Go to start of metadata
The right appearance with the right phone number!
Assign the same phone number to several employees (group-independent)
Assign phone numbers that have already been assigned elsewhere (e.g. modules, conference rooms or groups)
Multi-client support: Signalling of non-network telephone numbers
Dynamic activation/deactivation of signalling via function key "Activate/deactivate module"
New: Wildcard support forlogin IDs
new: Exception list for destination numbers for which no deviating signalling is to apply (e.g. own mobile phone numbers)
Data protection and function maintenance: Fluxpunkt modules "do not phone home" and are not dependent on the function/accessibility of external license servers.

Phone number signaling changes the signaled phone number of specified users. A number to be displayed can be configured for each STARFACE user. In theory, any number in the international number format is possible (country and area code). The phone numbers do not have to belong to the line configuration.

The module only changes the phone number for calls that go to the exchange. To identify these, three conditions are checked:
The caller is a STARFACE user
The called party number begins with "0"
The called party is not a STARFACE user
Let's go: Installation
Important note
Functional prerequisite
CLIP No-Screening must be activated in the advanced settings of the line used and supported by the provider so that call numbers that do not belong to your own line can be signalled.
Legal notice
According to
Art. 66k Par. 2 TKG only caller Ids may be signalled for which you have a right of use.
Related Modules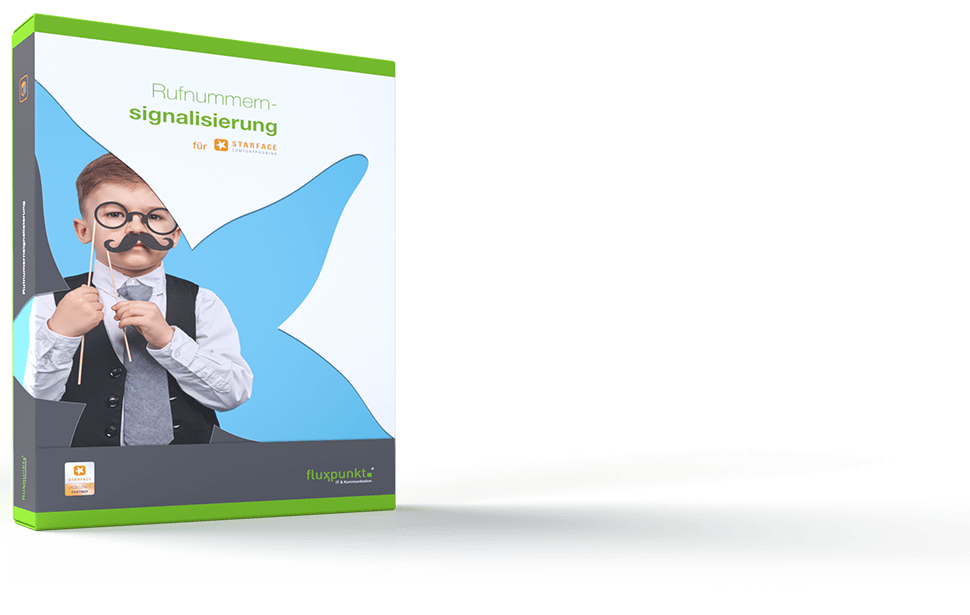 ---
---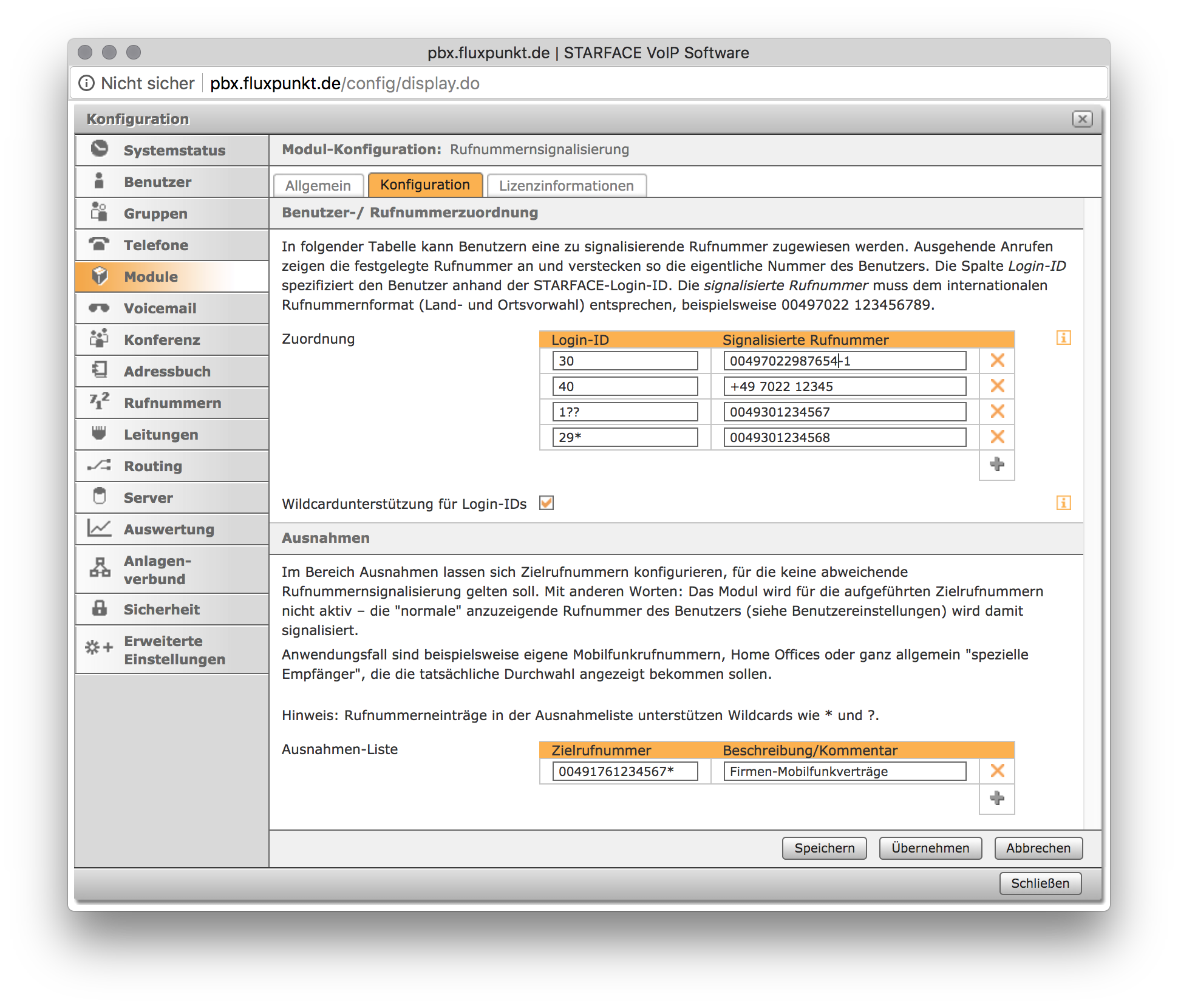 Please note our general  information  for our modules.
The Login ID column specifies internal STARFACE users. A call number to be signalled can be assigned to them. Numbers must correspond to the international number format (country and area code). Spaces and hyphens are filtered out internally by the module and may therefore be contained in the phone numbers. The numbers may also begin with the prefix "+" (instead of "00"). If the phone number is prefixed with a "+", the plus-symbol is replaced by "00" by the module (internally and not visible to the user).
Hint: Login IDs (from version v24 upwards) may contain the wildcards * and ?
FAQ
Frequently asked questions about our STARFACE extensions
Installation
Price and ordering process
Licenses
Updates and Compatibility
Support
Compatibility / Updates
| Module version | Compatible with STARFACE version | |
| --- | --- | --- |
| 21 | 6.3–6.4 | |
| 24 | 6.3-6.4 | New feature: Wildcard support for login IDs. Especially if many employees are supposed to signal the same phone number, this speeds up the configuration considerably. |
| 26 | 6.3-6.4 | New feature: Exceptions list for destination phone numbers. Destination phone numbers can be configured for which no deviating signalling is to be applied. |
You don't have a STARFACE yet?