Skip to end of metadata
Go to start of metadata
The power tool for sales on behalf of customers!
No configuration necessary
Select your called ID while dialing (destination number #caller-id )
Including Windows command line tool for usage with CRM/ERP programs
Data protection and functional integrity: Fluxpunkt modules "do not phone home" and are not dependent on the function/accessibility of external license servers.

The PowerCLIP module, in combination with the supplied Windows command line program PowerClip.exe , allows you to dial any phone number while simultaneously transmitting any caller ID.
This way you determine the displayed phone number of the called party.
Alternatively, PowerCLIP can be used from any application to extend the destination number by a hash (#) and the caller ID to be displayed. The module automatically sets the part behind the hash-character as your own displayed phone number (called ID).
The combination of command line program for dialing phone numbers and STARFACE module for manipulating the displayed phone number is perfectly tailored to the application in call centers where different caller IDs have to be set depending on the customer or project.
In contrast to alternative modules from other suppliers, PowerClip does not require a sequence of delimiting numbers. These have the disadvantage that they may not occur within telephone numbers.
In addition, the STARFACE call lists contain the correct number called and not a composition of destination number and number to be displayed.
Advantages
Simple: no configuration necessary
Reliable: the hash-character as a separator is unique within phone numbers and can be entered in any application.
Investment protection: no dependence on external services/license servers
Economical: Purchase once per server. No software maintenance or running costs!
Getting Started: Installation
You will receive the module file and the Windows command line tool after ordering.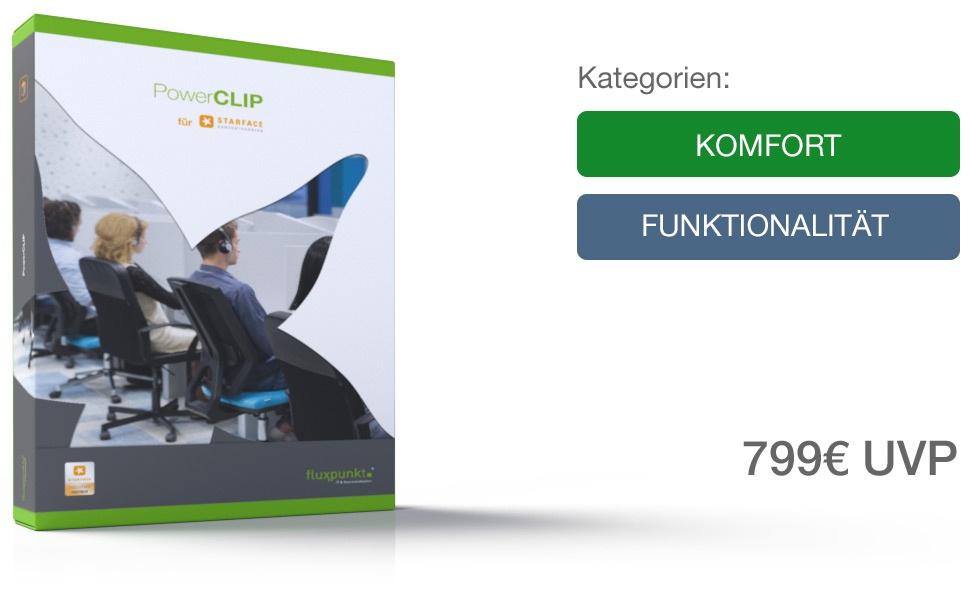 ---
---
Please note our general information on our modules.
Configuration
The STARFACE module PowerClip itself does not need to be configured. The module must only be active on your STARFACE.
For an outgoing call, the executable file PowerClip.exe supplied with the module must be called on the telephony workstation as follows:
PowerClip.exe <Zielrufnummer> [optional:<CLIP>] [optional:<Kommentar>]
Example:
PowerClip.exe 004972115104230 004912345678 "Kundengewinnung Projekt 0815"
The optional comment is available to TAPI applications as the name of the called phone number. On the STARFACE side, the comment has no function.
Prerequisites / Restrictions
The telephone provider needs to enable the service feature "CLIP-No-Screening".
The Windows UCC client must be installed and connected at the telephony workstations. 
The program PowerClip.exe uses the STARFACE TAPI Line on the client side for dialing. The program is NOT designed for use on terminal servers!
FAQ
Frequently asked questions about our STARFACE extensions
Installation
Price and ordering process
Licenses
Updates and Compatibility
Support
Compatibility / Updates
| Module version | Compatible with STARFACE version | Windows |
| --- | --- | --- |
| v17 | 6.4 | Windows 10 Pro |
Version
Initial Release
Enhancements
Bug fixes
You don't have a STARFACE yet?