Skip to end of metadata
Go to start of metadata
High Definition Audio even before the conversation!
User/group and caller individual ringtones
25 high-quality ringtones to choose
from Ringtones in volume-level variants
Internal / external differentiation
included Alarm bells / sirens / silent
ringtones in the UCC client (from 6.4.2.x)
Support of Yealink, Tiptel and end devices
Data protection and function maintenance: Fluxpunkt modules "do not phone home" and are not dependent on the function/accessibility of external license servers.

Modern and business-suited ring tones and alarms for all Yealink and Tiptel desk phones as well as the UCC client. Perfect for distinguishing between callers, called groups/users or internal/external calls.

The ringtones can be set for the following scenarios:
all direct calls for a configured STARFACE user
all direct calls for a STARFACE user as a member of a configured group
all calls from a specific phone number or to a specific phone number
internal/external calls
Most ringtones are available in two volume-level versions:
"quiet office" (ringtones with reduced level)
"noisy environments" (ringtones with maximum level)
Hint: The module has no influence on the volume set by the terminal device. The terminal device can still change the local volume between "Off" and a maximum level. However, the high-volume ringtones are louder overall.
Advantages
Quality: high-quality ringtones, carefully adjusted volume levels, seamless repeatability
Investment protection: no dependence on external services/license servers
Economical: Purchase once per server. No software maintenance or running costs!
Let's go: Installation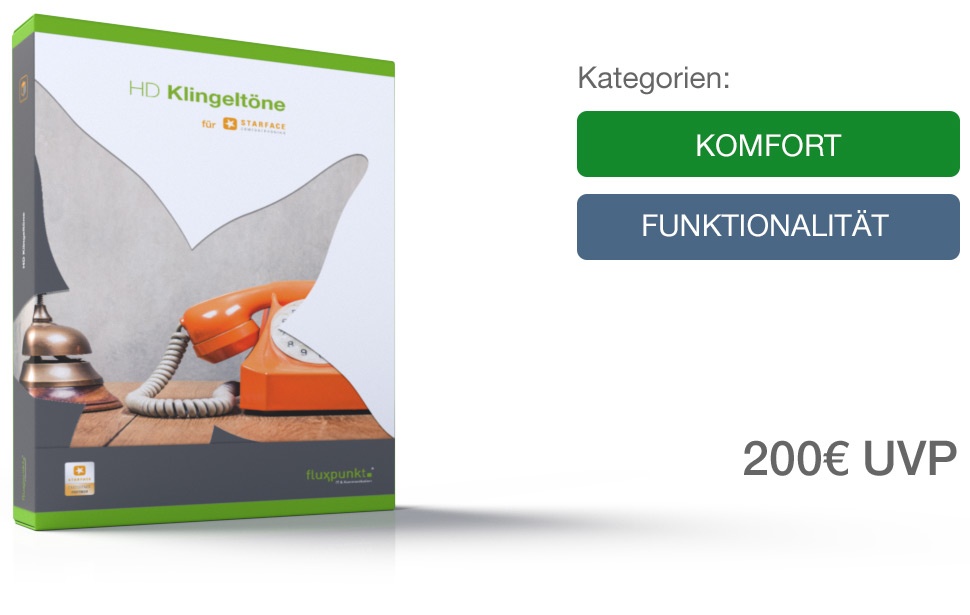 ---
Jetzt kaufen Download für Yealink/tiptel (v141)
---
Probehören (Audio-Vorschau)
Ice Cream:

Melodic Bell:

Deep Bell:

America:

Alarm:

Melody:

Piano:

Lounge:

Beachmelless:

Guitar Mellos:

Beats:

Blue Planet:

Dreamin:

Electro:

Forward:

Good Times:

Rewind:

Shorty:

Arpeggio Split:

Bass Runner:

Chillout Starter:

Handheld Symphony:

One Tone:

Silence:

STARFACE: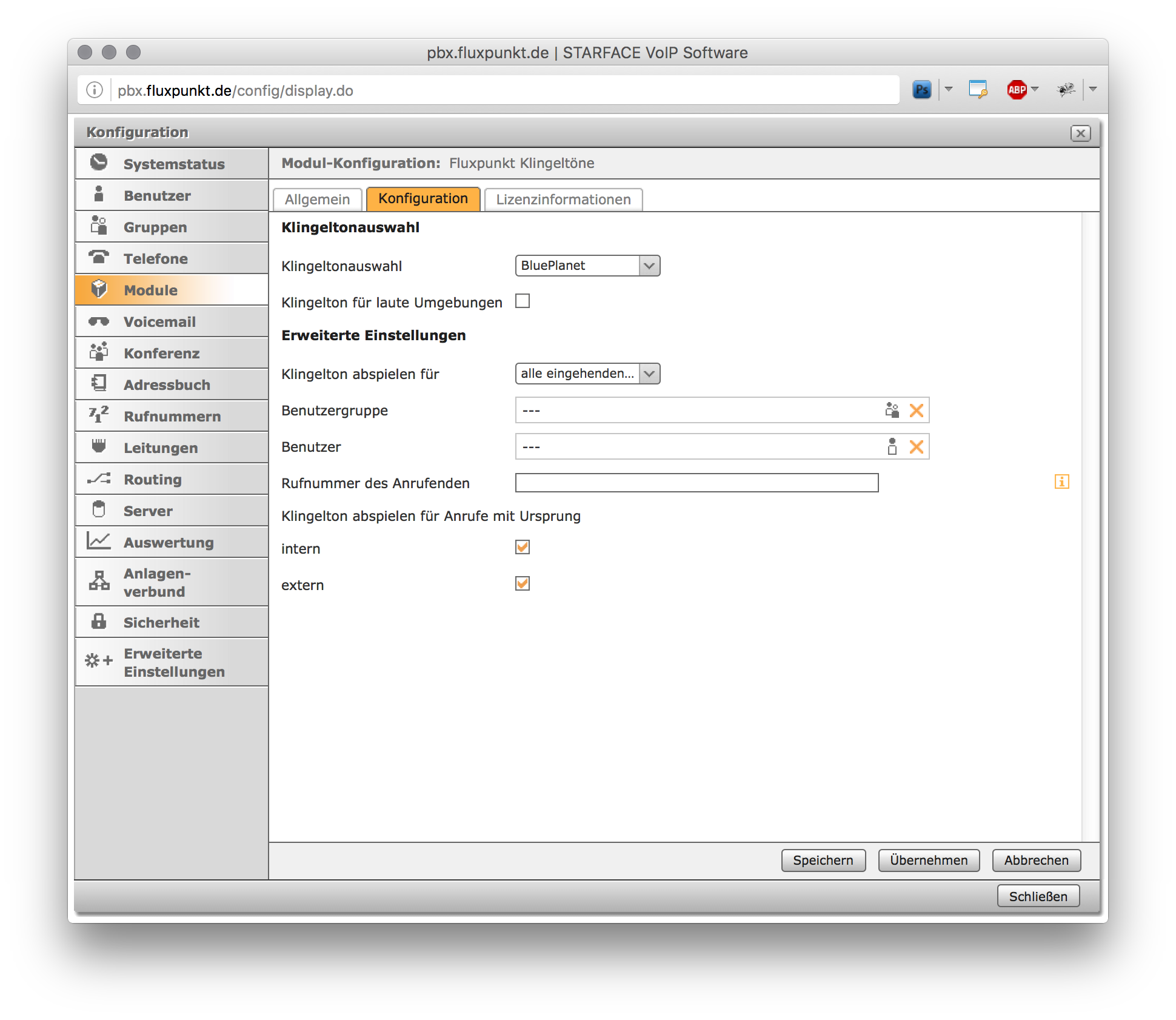 Differences of the different ringtone modules


Fluxpunkt
HD Ringtones
STARFACE
Ringtones
STARFACE
Group-specific ringtones
Differentiation Internal/External
Differentiation of the called group
Differentiation of the called user
Differentiation according to caller number
HD ringtone selection / terminal device ringtones / uploadable WAV file
Ring tone volume selectable
UCC client compatible
Supported devices
yealink, tiptel

yealink, tiptel, openstage, panasonic, aastra, gigaset, openstage

Price in € (net)
200,--
200,--
400,--
Please note our general  information  of our modules.
Configuration

The module can be instantiated multiple times to set ringtones for different configurations. If the module is instantiated several times, the module license key must be entered in each instance. Instances without a license key have no function.
The selection between the quiet and loud ringtones is made via the checkbox "Ringtone for loud environments". Any further volume adjustment must be made on the terminal device.
Please make sure that the first network interface of STARFACE is provided with a static IP address which can be reached by the end devices via HTTP.
Constraints
You cannot set an individual ringtone for calls to iQueue queues. The same applies if an incoming call is forwarded with the help of a module which implements the forwarding by setting up a new call.
The ringtone is sent to the mobile devices as a download URL (via HTTP) in the SIP header. The IP address of the first network interface of STARFACE is used for this. If this IP address cannot be reached by a terminal device, no ring tone download is possible.
If terminal devices from other manufacturers than Yealink/Tiptel are used, distortion may occur on these terminals when the ringtones are played.
The absolute volume of the ringtones depend on the configured ringtone volume on the terminal device. The module cannot change the terminal device volume level.
FAQ
Frequently asked questions about Fluxpunkt HD Ringtones
General information
Werden eigene Klingeltöne unterstützt?
No, Fluxpunkt ringtones contains a selection of ready-made ringtones, which are of very high quality and have been specially created for use with Yealink or Tiptel devices. Special emphasis was placed on high-quality sound reproduction: The ringtones are repeatable without unpleasant interruptions, the coding, the volume level and the frequency range have been adjusted to sound good on the end device. We are also working on other ringtones that will be available with updates. There are no plans to support custom uploadable ringtones.
Frequently asked questions about our STARFACE extensions
Installation
Price and ordering process
Licenses
Updates and Compatibility
Support
Compatibility / Updates
Module version
Compatible with STARFACE version


v85



v90


v91
Attention: This version is only available for installations with STARFACE security update 6.4.2.11/.12.
v92
6.4.2.11 – 6.5

Improvements:

New module license keys now support both primary and redundant systems simultaneously.
NFR partner systems are now also recognized if no NFR server license is installed, but only NFR user licenses. The module is then automatically executable without a module license key.

v94

6.4.2.11 – 6.5

Improvements:

3 new ringtones: Melody, Lounge, Piano

v134
6.4.2.11 – 6.5

Improvements:

6 new ringtones: Alarm, America, Guitar Mellos, Ice Cream, Deep Bell, Melody Bell

v141

6.4.2.11 – 6.5

Improvements:

6 new ringtones: Arpeggio Split, Bass Runner, Chillout Starter, Handheld Symphony, One Tone, Silence
You don't have a STARFACE yet?