Skip to end of metadata
Go to start of metadata
Makes your workplace a little more beautiful!
Free of charge! Simply download!
Includes information on image formats and resolutions
,data protection and function maintenance: Fluxpunkt modules "do not phone home" and are not dependent on the function/accessibility of external license servers.
Hint: This module is available free of charge from your STARFACE partner or as a download (see section Installation). No license key or similar is required. Please download the module. Have fun with it!

The workplace is more beautiful, with your own logo on the telephone display. Custom Wallpapers allows you to upload new background images for different phone types to STARFACE. Terminal devices can use these images as a background.Depending on the device, certain image formats and encodings are required. The module describes which formats and encodings are required.
Suitable pictures can be uploaded for devices of the following manufacturers:
Alcatel (Temporis IP600/IP800)
Fanvil (X3/X4/X5S/X6)
OpenStage (OpenStage 40/60/80)
Panasonic (KX-UT670/KX-HDV330)
snom (snom 360/370/D785)
tiptel (IP 284/286/3120/3130)
Yealink (T28/T32G/T38G/T46G/T46S/T48G/T48S/T49G/T52S/T54S/T56A/T58A/T58V/EXP50/CP960)
For a more detailed list of supported models, see the Documentationtab.
Let's go: Installation
Upload wallpapers in the specified format within the module configuration and save the configuration using the "Apply" button.
Press the "Activate settings" button to accept the configured images.
Restart terminal devices or press the button "Provision terminal devices/telephones".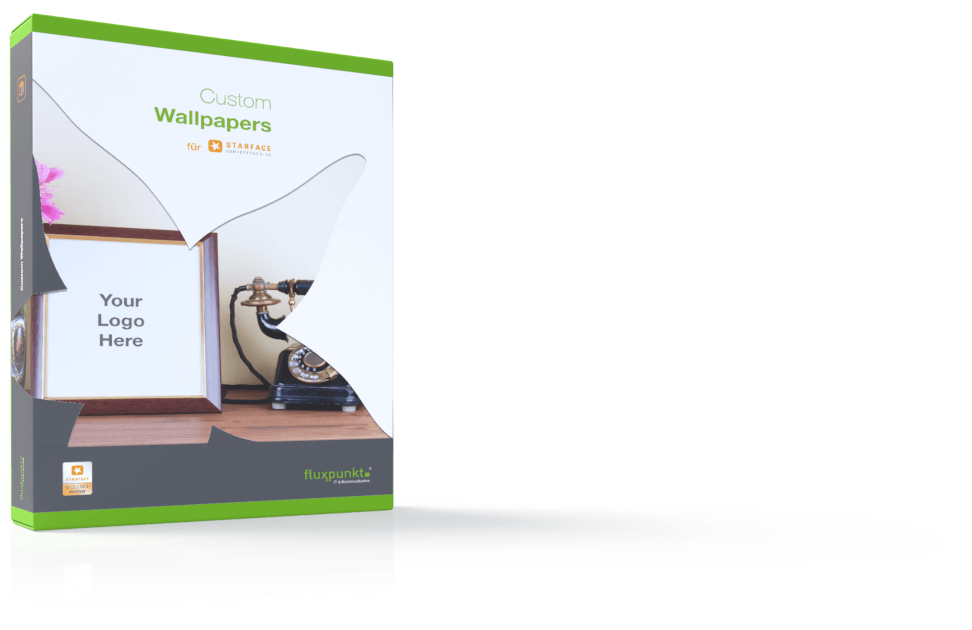 ---
---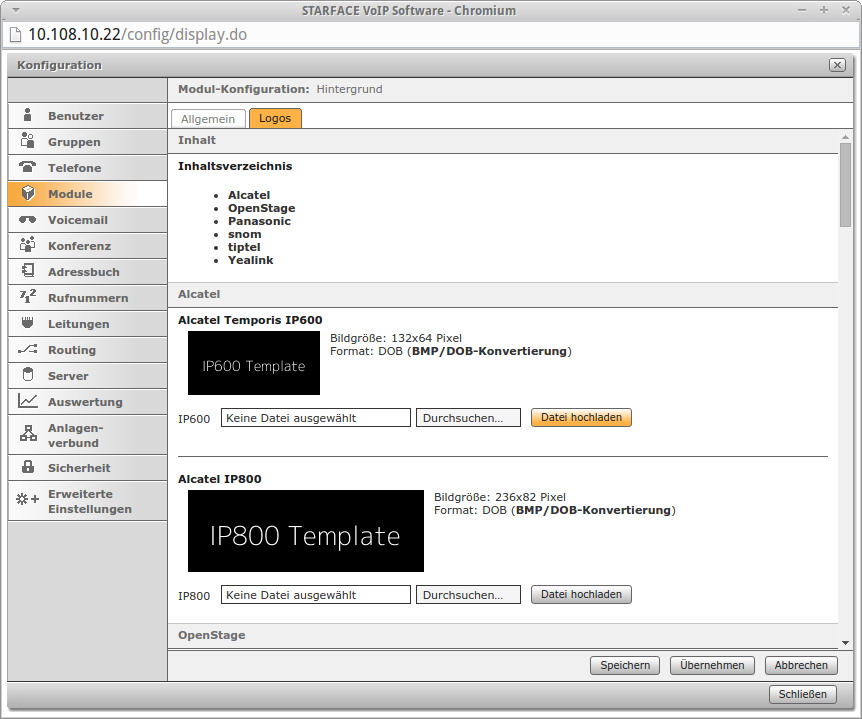 Please note our general information about our modules.
Custom Wallpapers replaces the background images of the end devices in the STARFACE file system, which STARFACE makes available to the end devices within the framework of provisioning. The module first creates backups of the original wallpapers, which are restored when the module is deactivated.
Please note that the module does not trigger any provisioning of the mobile devices and does not change their configuration. When the end devices are restarted (or factory reset), they actively download the wallpaper from your STARFACE PBX.
If the wallpaper does not appear on the device after a restart or factory reset, please check the file format and dimensions of the graphic.
Supported devices
Alcatel

Temporis IP600 / Temporis IP800

Fanvil

Panasonic

snom

Tiptel

IP 284 / IP 286
3120 / 3130

Unify

OpenStage 40 / OpenStage 60 / OpenStage 80

Yealink

T28
T32G / T38G
T46G / T46S / T48G / T48S / T49G
T52S / T54S / T56A / T58V
EXP50
CP960
Reference
If a redirection to HTTPS has been activated within STARFACE, the installation must be equipped with a trustworthy certificate from a public CA, since most terminal devices make the download of wallpaper dependent on the trustworthiness of the web server certificate.
FAQ
Frequently asked questions about Custom Wallpapers
STARFACE Updates
Warum wird nach einem STARFACE Update wieder das STARFACE Logo in den Telefonen angezeigt?
A STARFACE update overwrites the directories with the image files on the STARFACE. The subsequent restart first transfers the STARFACE background images back to the end devices. The module has no way of intervening here yet. After a STARFACE update the module must therefore be manually deactivated and reactivated and then a restart of the terminal device must be carried out.
Frequently asked questions about our STARFACE extensions
Installation
Price and ordering process
Licenses
Updates and Compatibility
Support
Compatibility
Module version
alterations
Compatible with STARFACE version
20


6
23
Support for Yealink T49G


24
Adjustments for STARFACE 6.4: OpenStage60/80 logos are now PNGs instead of GIFs


25
Support for Yealink T46S/T48S


36
Adjustments for STARFACE 6.5: Support for snom D785 phones


37
Unterstützung von Panasonic KX-HDV330, Yealink T54S, Yealink T52S, Yealink T56A, Yealink T58A/V, Yealink EXP50
6.5
46

Support of Fanvil X3, X4, X5S and X6 devices.
Module translation for English.
Terminal devices/phones can now again be provisioned with the logos at the click of a mouse.

6.5-6.6
You don't have a STARFACE yet?