Skip to end of metadata
Go to start of metadata
Back to the start - Full control over forwarding
Return to the originally called subscriber after multiple forwardings
Interruption of forwardings if a configured number of forwardings for a call is exceeded
Configurable announcement when a certain number of forwardings
is reachedData protection and function maintenance: Fluxpunkt modules "do not phone home" and are not dependent on the function/accessibility of external license servers.

The Multi-Stage Forwarding module redirects a call to the voicemail box of the first user called after a specified number of forwardings have been exceeded.

Alternatively, an announcement can be played. The number of forwarding operations that have taken place is stored in a counter. The following rules apply:
Only forwardings due to timeouts (configured in the STARFACE under the "timeouts" tab) will increase the counter.
Constant forwardings (configured in STARFACE under the "always" tab) do not increase the counter.
Busy forwardings (configured in the STARFACE under the "busy" tab) do not increase the counter.
Manual forwardings (performed by the user on the phone) reset the counter to 0.
Rejecting a call increases the counter if it redirects (and does not cancel) the call.
Forwarding to users and to groups is both considered by the module. However, the restriction applies that the module only becomes active if the first person called is a user (i.e. not a group).
Advantages
Investment protection: no dependence on external services/license servers
Cheap: Licensing once per server. No software maintenance or running costs!
Let's go: Installation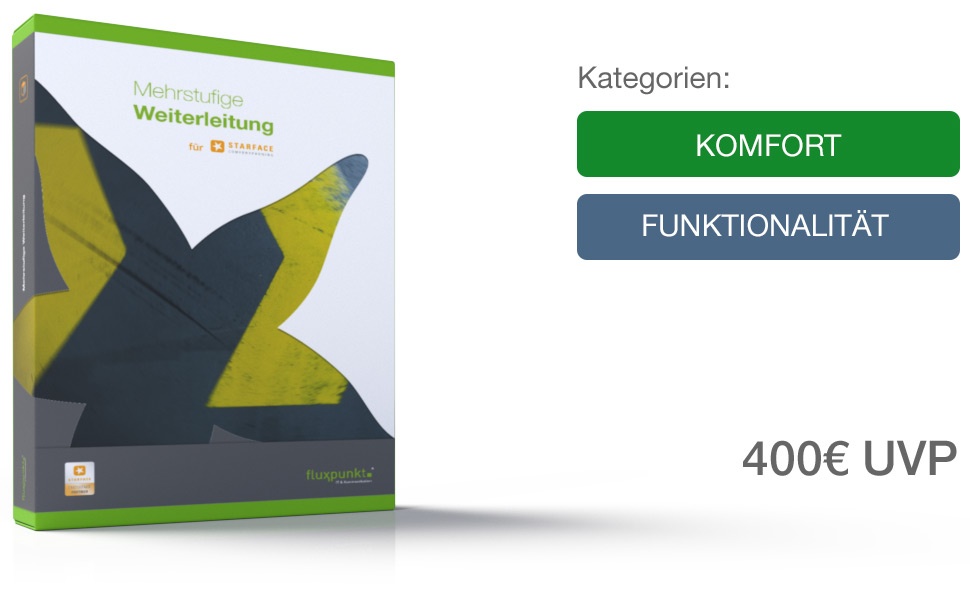 ---
---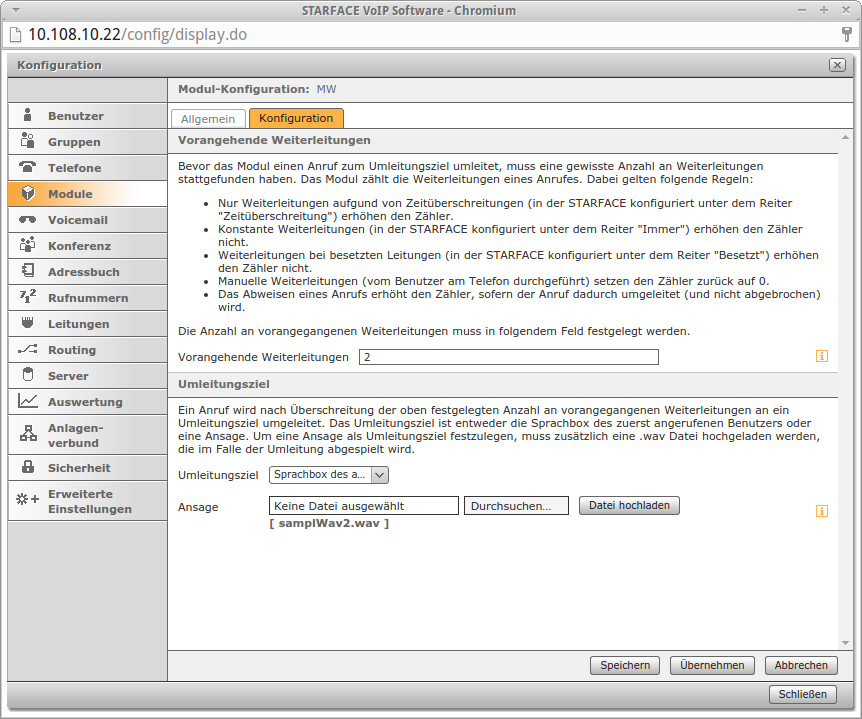 Please note our general information about our modules.
The module can be configured by the administrator in the web interface of the STARFACE system (see screenshot). Specify a forwarding destination (either the voicemail box of the first user called or an announcement) and the number of forwardings that must pass before forwarding to the configured final forwarding destination. If the forwarding destination is an announcement, a .wav file must be uploaded which will be played in case of a forwarding.
FAQ
Frequently asked questions about our STARFACE extensions
Installation
Price and ordering process
Licenses
Updates and Compatibility
Support
Compatibility / Updates
Module version
Compatible with STARFACE version


v309
6.3 – 6.5.1

Improvements:

Support for new license keys that also work on redundancy systems.
Automatic recognition of STARFACE partner installations using NFR license keys (previously NFR server license; now also NFR user licenses). Module is activated automatically - without module license key.
You don't have a STARFACE yet?